As many of us do, with the coming of the new year, we reflect back on the highlights of the past year and look forward to the new year and all that it promises to bring! About ten years ago I started a tradition in my family. Throughout each year, I collect photos, awards, certificates, souvenirs, and mementos  for each of my three children (two biological and one adopted) and then compile all of the mementos into a scrapbook and/or journal that I present to each of them on Christmas Eve. Each scrapbook includes highlights from their lives during that particular year. The kids have really come to enjoy receiving scrapbooks as a gift at the end of each calendar year. Each of the kids enjoys looking at everything that I have collected and compiled into one scrapbook and are happily reminded of highlights from their lives during the year. Like so many of us, time goes by quickly and the events of our very busy lives blend together. Putting together a scrapbook for each of my children gives them an opportunity to reflect upon the past year and be reminded of the highlights of the year. They each have one for each year of their lives which they can look back upon as they get older. It really makes me smile when I see the kids pull out their scrapbooks and begin to reminisce about days gone by!
When you think of scrap booking you might be thinking of some "fancy" craft project….it doesn't need to be fancy. The "journal" that you put together for your child can be in the form of a "binder", a fancier "scrapbook", or a "journal" type of gift whereby you chronicle certain important times in their life and include related souvenirs. The point is……. pulling together a memory book for your child can be very easy. All that you need is a binder or a simple notebook, journal, or scrapbook. Collect souvenirs, certificates, awards, photos, tickets stubs, etc, throughout the year and put them all in one place. A great GIFT for your child! They will treasure the gift and the memories for years to come!
Below are some examples of neat binders, notebooks, and journals that will serve as a nice starting point for your "memory making" extravaganza! Just collect all the fun mementos and compile them in one of these and you will have a nice gift for your child/children!
 Click here to see hundreds of special scrapbook album designs!
Featured Scrapbook Albums are included below!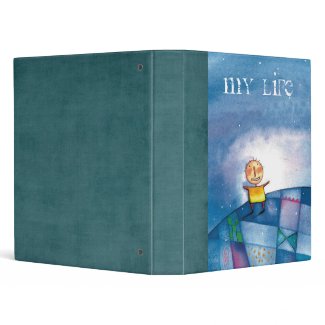 Enjoy creating special gifts for your children! They will thank you!
 Click here to see hundreds of special scrapbook album designs!